November has arrived, the beginning of the holiday season for many of us. I wanted to find an artist to inspire us that created pieces that represented family and tradition. Of all the artists I looked at, I kept coming back to Norman Rockwell's painting known as "Freedom From Want". This piece represents family life with the traditional turkey dinner shared by all. It is an oil on canvas piece and one of 4 pieces known as the Four Freedoms; Freedom of Speech, Freedom from Fear and Freedom of Worship being the other three.
How will Norman Rockwell inspire you? I am going to share this one link with you, although there are many out there on the web.
http://www.art.com/gallery/id--a32/norman-rockwell-posters.htm?ui=3DF0E4625C1749EEAD1995A3B35A03CB
For this project, find a Rockwell piece and see how it talks to you. Will it touch you through his use of colors, the graphic designs he uses in his magazine covers, or the subject matter.
Personally, I was going for that family around the table look and here is what i came up with.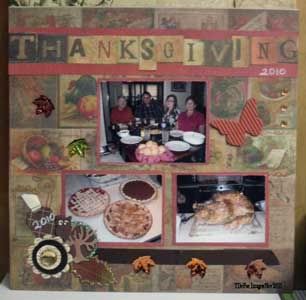 Be sure to post your project back at
Scrapping the Moments
telling us which Rockwell piece inspired you as well as in the gallery. You have until December 14th to finish your project. You can do digi, cards, any paper craft as long as it meets the criteria of the challenge. If you would like to combine this challenge with another challenge at Scrapping the Moments, please feel free to do so. However if you are playing for a badge for a challenge then please do not combine with another challenge.
Hope you enjoy exploring Norman Rockwell this month!!
And from my family to yours, we hope you have a Happy Thanksgiving!!!